Tech
EMUI 10 based on Android Q offers a glimpse at what is coming next to HUAWEI P30 series
Huawei recently announced the tenth iteration of its Emotion UI during its Developer Conference in China. EMUI10, like most of its predecessors, will bring a ton of features to the table including old favorites from previous iterations as well as some new ones.
EMUI10 will showcase Huawei's unique take on Android Q including a UI design overhaul. You'll see major features from Google's latest OS such as better gesture navigations, new permission controls and system wide dark mode but with a Huawei twist.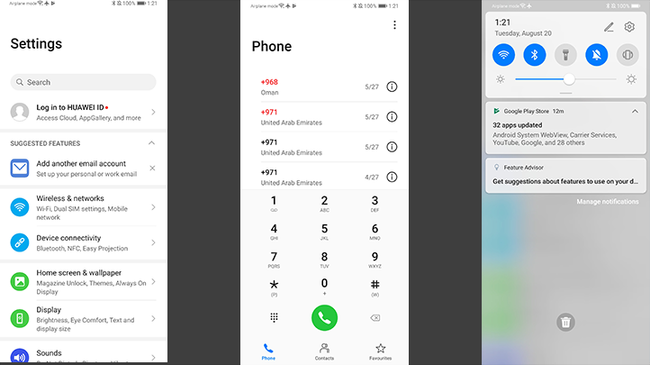 Huawei's design team has adopted a "magazine-style" ethos this time around for consistency and legibility. It retains the familiar EMUI aesthetic but improves upon it by spacing out text and icons in a way that makes them less cluttered and easier on the eyes.
There are other visual tweaks and upgrades system wide. App icons are refreshed, but nothing too drastic, just a much needed coat of color and subtlety. The color palette, which was developed in conjunction with by renowned Italian painter, George Morandi, draws inspiration from soft colors found in nature and have a low saturation profile. These colors are designed to be pleasant to look at and add a touch of simplistic elegance to EMUI10.
EMUI10 will also bring a major feature from Android Q, Dark Mode, which extends across the UI and supports third-party apps. However, Huawei has added its own touch to Android's Dark Mode. Through extensive user feedback, Huawei has determined that simply inverting blacks and whites is not enough to reduce strain on user's eyes.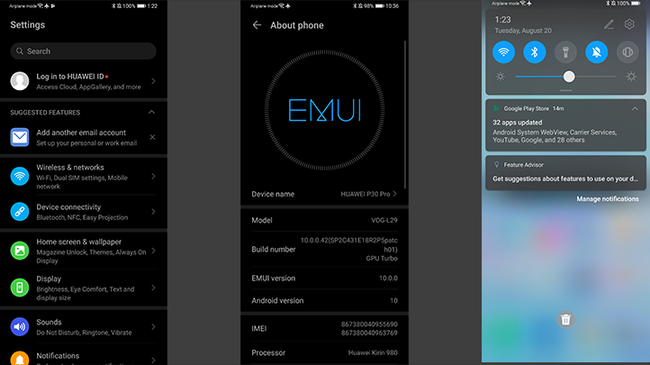 Instead, EMUI10 adopts a variety of whites, greys and blacks in its enhanced Dark Mode and even alters colors on app icons so that they don't cause eye strain. The darkened UI is applied across pre-installed apps and UI. And Huawei's working on making it easier for developers to make its dark mode compatible with third-party apps without significant effort.
EMUI10 will also feature redesigned animations that will make scrolling, swiping and tapping feel slicker and more natural. Many of the animations have been modelled after real-world physics and designed to add weight and impact.
Larger objects on the screen will appear to move around with more force and pressing down on icons makes them depress into the screen and popping back up like a button. It's another subtle touch that might go unnoticed but one of the major contributors in making the UI feel snappier and more fluid.
Among the many refinements present on EMUI10 is the tweaked camera app. It features refined UI tidbits such as redesigned sliders and simplified menu that sits in well with the refreshed UI. There'll be new filters for people to play around with and options in general will be much easier to sift through.
There are plenty performance boosters on board as well. EMUI10 will feature GPU Turbo, the brand new file system EROFS and ark complier introduced in EMUI 9.1 to ensure security and fast reading speeds and loading times.
EMUI10 will also make use of what Huawei refers to as "distributed technology" that allows for seamless collaboration across devices. One such implementation is Multi-screen that will allow users to mirror their phones on their computer and exchange data through simple drag-and-drop actions.
Huawei's P30 series will be the first to get the EMUI 10 Beta update starting  September 8 across global markets. After which it will roll out on the Mate 20 series and soon to other Huawei phones. 
The improvements and upgrades across EMUI10 are subtle but they go a long way and will only be elevated when paired with powerful hardware, which gives us a rough idea on what to expect from Huawei's upcoming flagships.
A power efficient OS allows manufacturers to use more power hungry hardware without negatively affecting battery life. EMUI10's UI design overhaul and focus on responsiveness hints that high performing display technology could be coming to Huawei phones. We can also expect better camera tech and a powerful processor to keep things running smoothly.
Source link